SLR, Repairable Sneakers (2023)
---
Pictured above: SLR 2, Iteration 3
Overview

SLR (Sport, Lightweight, Repairable) is a series of sneaker designs attempting to blend the market appeal of sneakers with the repairability of traditional shoemaking. This exploration included aspects of emotional durability, accessible components, and materiality. Design concepts were a lightweight suede/mesh trainer (SLR 1), a casual full leather slip-on (SLR 2), and a Chuck-like denim/veg tan leather high-top.




Concepts
From speaking to shoe cobblers and sneaker restorers, I found that the client that is looking to repair their beloved Jordans, Air Maxes, etc. typically wants as close to new repair as possible. The challenge with that is that sneakers are designed for a single product lifetime, with repair not being something considered in the design process. This led to material research centered around upper materials that are welcome in the sneaker world, but could also age with the wearer to create a strong product-user relationship to increase the odds of repair instead of disposal.

The sneakers concepts I needed to design needed to balance accessibility and novelty (not at an Allbirds or MSCHF Red Boots extreme), while also maintaining repair as a priority. Sneakers being at their core being comfortable and lightweight posed a challenge to the bulkiness of a Goodyear welt or other technical-looking approaches.

After multiple sketch iterations, I decided to pursue designing a trainer, a slip-on, and a high-top using a stitchdown construction or minimal component construction. Pursued final materials were vegetable tanned leather, full-grain leather, split suede, spacer mesh, and selvedge denim.


Prototyping

The prototyping phase was a very iterative process. The upper needed to both translate the intended form onto the last, while also considering excess material needed for the stitchdown construction, consering stitched folds (as to avoid the use of adhesives as in most sneakers), and considering final materials. I went through 2-3 iterations for each design, before moving on to the final sample.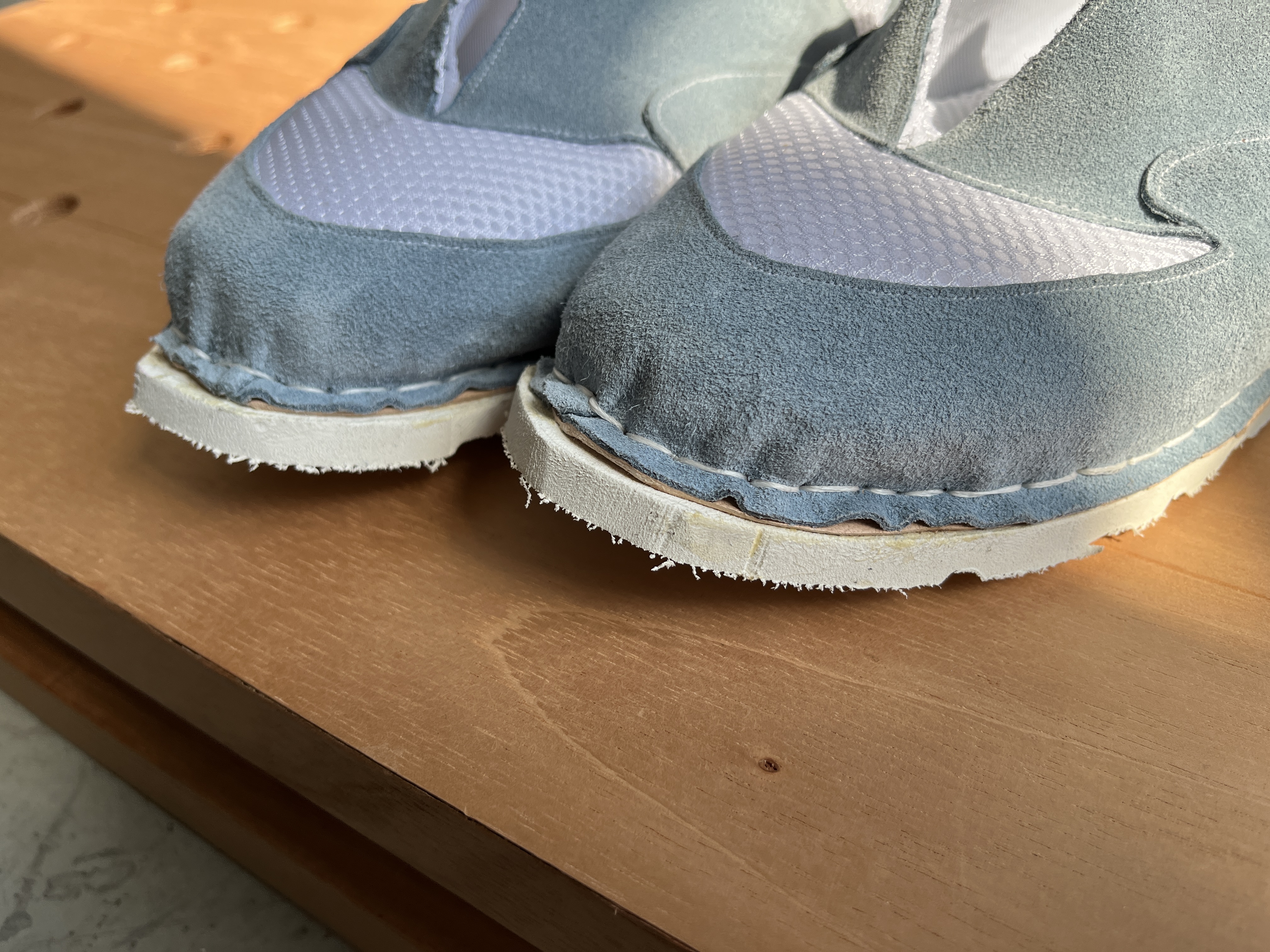 Final Samples
Due to time, I was able to finish SLR 2 (slip-on), and finish most of SLR 1 (trainer).

SLR 1 is a vintage running inspired trainer made out of split suede, spacer mesh, vegetable tanned leather, and a Vibram Trail Moc sole using a lightweight stitchdown construction.

SLR 2 is a soccer-boot inspired slip-on made of a total of 5 components. The upper is made out of micro-perforated pebble grain leather and vegetable tanned leather. Birkenstock cork insole and a Vibram mini ripple outsole make up the tooling.